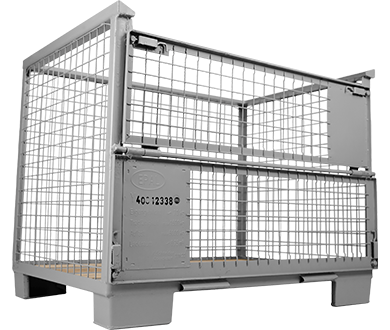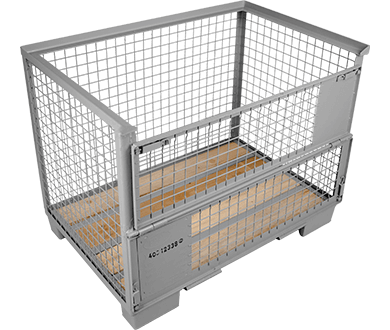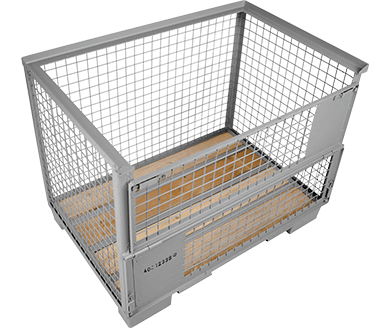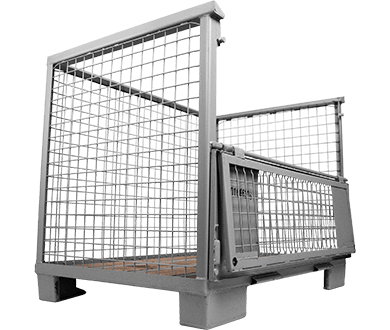 EPAL Box Pallets are a perennial favorite for transportation and storage. They are made of sturdy steel, guaranteeing durability and resistance. With the standardized size and sturdy grid design, they provide safe storage space and excellent ventilation for products. Safe storage, high load capacity and easy control of the contents make mesh boxes an indispensable all-purpose weapon in the automotive sector. As an EPAL grid box, it is widely used worldwide and approved in the European pallet pool as an exchange pallet.
EPAL Box Pallet are safe across borders worldwide.
EPAL Box Pallet guarantee smooth transport of goods.
EPAL Box Pallet ensure stable storage of goods.
EPAL Box Pallet ensure maximum work safety due to their high quality.
Dimensions
L: 1200 mm
W: 800 mm
H: 970 mm
Product features
Empty weight: 70 kg
Loading capacity: 1500 kg
Production: according to UIC standard 435-3; integrated in DIN 15155
Advantages
enormous stability
good stackability
Storage of high quantities
Ideal for small parts and pressure-sensitive packaging
optimal ventilation
four-sided access with pallet truck/forklift truck
accepted worldwide
integrated in European pallet pool as exchange pallet
Facts and info
The lattice box pallet, also called lattice box or simply "Gibo", is an extremely resilient load carrier made of a high-quality steel frame lattice and an insert floor. Thanks to the high load capacity of up to 1,500 kilograms, they are ideal for transporting heavy goods. Due to the possible payload of 6,000 kilograms, mesh pallets can be stacked and are thus also excellently suited for the storage of heavy goods. The integrated flap makes loading and unloading easy, and the open grid structure also allows quick level checks.
Dreiso repairs box pallets according to UIC standard 435-3, which is integrated into DIN standard 15155. For example, the pallet cage is approved as an exchange pallet in the European pallet pool EPAL and is thus an important part of the logistics network.
Product request Box Pallet
FAQ
Box Pallets are mainly used for storage of smaller goods and materials (bulk). Due to the grid walls, the products can not fall out. Thus, small goods can be produced, stored and transported directly from the production line into the mesh box.
EPAL grid box consists of a steel grid frame, and 4 boards as the bottom.